Japan 2014 Day 10: Tokyo Shopping!
The last time I went to Japan, I dressed for comfort. That was a big mistake because I just looked really, really fumpy in my too-long solid colored sweater dresses. I was comfortable and warm, but I didn't feel fabulous. I decided this time I rather feel fabulous than comfortable, sore feet be damned!
If I had to pick, I love Osaka more than Tokyo, but when it comes to shopping, Tokyo please! There were five places I needed to hit:
Takeshita Dori
,
La Foret
,
Tokyu Plaza
,
6% Dokidoki
, and Harajuku Street. Luckily for me, it was all in the same area.
Takeshita Dori is that famous shopping street in Japan. It has some funky shops and stuff, but it is mostly a touristy place. I went there last year and got some cute things, so I wanted to go back again.
Not too crowded
I want to be Elton John!
Truth be told, I didn't find much here. I did, however, get $4.00 clip on bangs from Bodyline!
After that we went to find
6%Dokidoki
. This place is not just a burst if color, it's like getting hit in the face with a water balloon filled with radioactive paint. It's bright. What's a stronger word for bright? Intense? The colors were
intense.
With italic.
But first, I found another Eggs 'n Things!



After wandering through the back streets for a while, I gave up and used Google maps. But I was pleased to see that I was on the right street, and found it fairly quickly.
The store itself is upstairs, and not very big. I wanted one thing in particular:
This ring.
I got the pink and red one. I just couldn't commit to the neon. The nice thing about that place was, there was a table full of jewelry, and when you picked what you wanted, they gave you the item fresh and brand new, wrapped up in a sealed package. I must say, though, I don't know how these girls afford to live this fashion lifestyle. That stuff is expensive! That ring cost me $20.00.
I look so drab compared to her!
Doki Doki shop staff is pretty well known, so I was stoked to take a picture with Mel! There was another girl in the store as well, but she was dressed more like I was. They were both extremely friendly!
After this we trekked over to La Foret. I did manage to go on a different night, but didn't stop to look at any of the stores, really. I just ninja snapped a few pictures. I was most interested in the bottom floor because that's where all the lolita clothing was! I didn't end up buying anything, but I got to see some awesome things. I also looked at all of the floors, and got some earrings.
What I really wanted, though, was to see the Jeffrey Campbell store.
Here's
a great article with an inside look at the boutique. It is the world's first Jeffrey Campbell boutique, and as a huge fan of his shoes, I knew I had to get something. And I knew exactly what I had to get: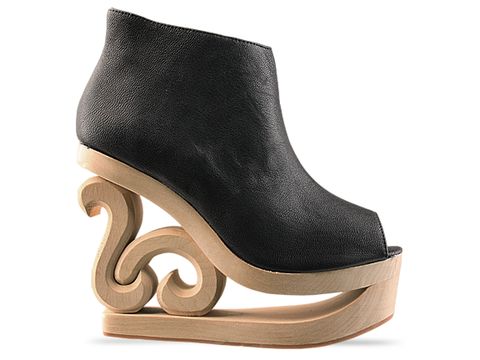 Jeffrey Campbell Skate Shoe
They had the shoe in black and white, and even had an all black and an all white option. I loved them both, but felt that the natural wood stood out more and opted for these. when I walked out of the store, Kevin said I had the biggest smile on my face that he has ever seen. I'm not going to tell you how much these shoes were. You can Google it if you are curious. lol I know there is a lot of hate for Jeffrey Campbell, people who say he rips off other people's works, but...I don't care. I can afford his versions and not the others, so there you go.
We wandered into the Tokyu Plaza, but didn't get anything. There was a shop, though, that had really adorable aprons for women and girls (that were extremely expensive). I did get a really cool pic in that entrance, though.
We also checked out Harajuku Street, which is right across of Takeshita Dori. This street has a lot more funkier stores that aren't touristy. I feel like this is more an area where the locals shop? I could be wrong, but that's just the vibe I got.
I had heard of this shop called Funktique from a
YouTube video
and I wanted to check it out. It is owned by a Japanese woman that lived for a time in Australia, and she imports her vintage clothing from New York, among other places. It took a bit to find the place, but I finally did!
The shop owner was really nice, she spoke English really well. I told her I found her on YouTube and she was excited and wanted to know how I found her shop (Google Maps). She gave me a fan that had a map of the area with other vintage shops too. I got a small Dallas Cowboys pin for Kevin. I felt bad that I didn't see anything else I liked, though.
Cool street art
Shopping is always fun in Tokyo, and even though I didn't get many things, seeing all the awesome things was just as good.